Shanghai Saychum Diamond Tools Co.,Ltd

Your best Diamond tools,Abrasive tools,supplier from China – Shanghai Saychum Diamond Tools Co.,Ltd
Hot press 5 inch cutting wheels 125mm diamond circular grinding disc for granite stone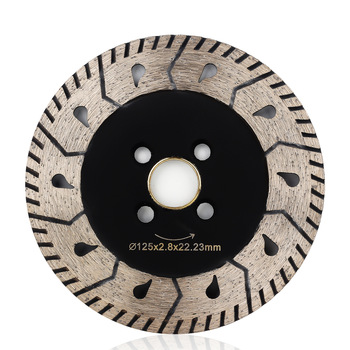 Product Description:
INTRODUCTION:
Hot sintered diamond cutting and grinding blade is widely used for dry/wet cutting and grinding stone. Continuous rim turbo segment design provide dust removal and fast cutting speed. Matching with hand-held machine,our diamond cutting and grinding disc blade is welcomed by our customer from all over the world. Diameter range from 5 inch (125mm)---6 inch (150mm) available.
PRODUCTS INFORMATION:
Hot sintered continuous rim diamond saw blade matched with hand-held machine,and widely used for cutting porcelain tile, ceramic tiles, stonce prcess or construciton.
if you need special order quantities,please feel free to contact us by leaving message,we will check and reply you as soon as possible.
PRODUCTS FEATURES:
Continuous rim makes cutting smoothher. Turbo segment for dust removal and fast speed; Dry and wet use, better performance with water; With protective teeth, prevent undercutting. For angle grinder, circular saw, tuck pointer,etc.
Size: 5 inch/125mm/8mm