Shanghai Saychum Diamond Tools Co.,Ltd

Your best Diamond tools,Abrasive tools,supplier from China – Shanghai Saychum Diamond Tools Co.,Ltd
100mm resin filled 4 inch diamond turbo grinding discs wheel for grinding and polishing stone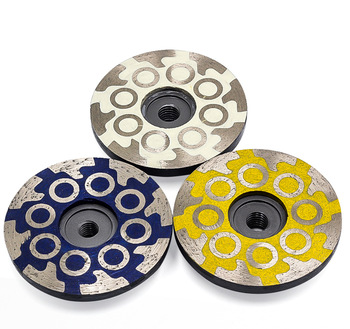 Product Description:
Introduction:
Our resin filled diamond grinding disc make with new technology.So that our cup wheels are so aggressive on most stone. The diamond cup wheels can be used on most popular angle grinder.They are available in coarse,medium or fine grit with arbor M14 or 5/8-11" female.
OUTER DIAMER (MM): 100mm
SIZE(INCH): 4"
CHOOSED GRITS: Coarse,Medium, Fine/40#,70#,100#
WORKING THICKNESS: 5.0mm
CHOOSED ARBOR: 5/8″-11 or M14
MATERIAL: Segment+ Iron Body